Medellín has long been known as one of Colombia's most violent cities. For over a decade, the mayor of Medellín has embarked on a social reintegration policy, which Le Courrier International has described as a passage from « the most violent city to the most innovative « . This locality has undergone a radical change since the time of Pablo Escobar. One wonders how it is to be a young artist in Medellín, and that's why we asked the graphic designer German Gonzales and the artist Juan Carlos Osorno, both students, to tell us about their experiences.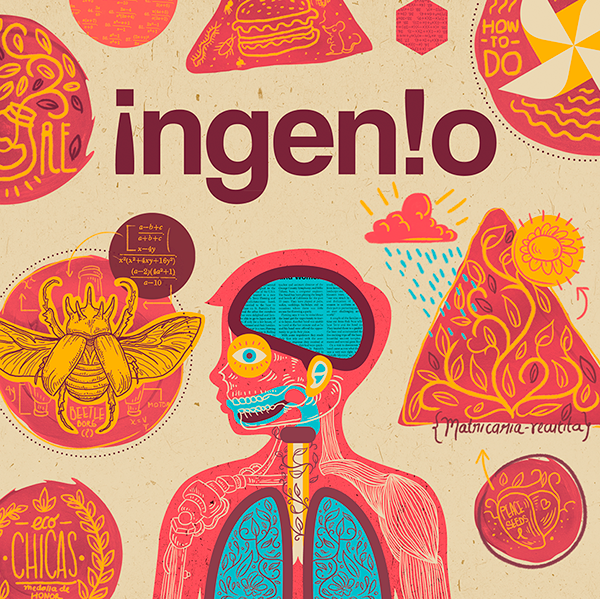 It is while looking for an internship in graphic design that German Gonzales realizes that he does not want to work in an office or for a boss, seeing an obstacle to his freedom. Halfway between his graphic design training and textile, he finds his way: launch his own brand of clothing. » I think you have to feel an inner desire and a passion to succeed, » says the future entrepreneur. From this medium, he communicates his ideas by arranging several disciplines such as fashion, music, literature and art. Gonzales finds his inspiration in the youth of Medellín. He sees in this generation an amalgam of hope, a mad energy that is dispersed; youth represents for him » electricity, power, vitality, life, rebellion and pleasure.«
For Juan Carlos Osorno, his vocation is clear: to be an artist. Aged 22 and a fine arts student at the University of Antioquia, he makes art a place where he can emancipate himself as a human being. His main working tools are paper and pencil: » I enjoy working with my hands while I'm busy in my workshop , » says Juan. He discovered a great interest in drawing, and it is this technique he uses to communicate his ideas. » Art has become the project of my life « .
Juan Carlos Osorno defines himself as a contemporary artist. He incorporates several cultural elements, including transposing into his works certain elements of the past and traditional aspects of his culture such as science, mysticism, the cosmos, the human, which gravitate in his art.
This city evokes for him the joy and the tranquility: » it is certain that a place where you are not happy directly influences your artistic creation « .
Conversely, according to graphic designer German Gonzales, art is an ecstasy to forget the chaos and violence of recent years in Medellín: « I think the world realizes that this city has changed. We are recognized as an innovative city , « he says.
A few people have started to make fairs, art shows, magazines, fanzines and decoration shops, growing marginal energy that contrasts with the majority of the population: » People do not tend to appreciate the art, graphics, etc. I think it's a cultural problem. Says German design student Gonzales, who nevertheless believes that » art is a good escape for Medellín to forget his violent past. Residents are now » more sensitive to local designers and artisans « , the problem being that people are not prepared to pay the price. « The public is more likely to criticize the cost of a professional's job and the industry tends to underestimate our work . «
Through his work, Juan Carlos Osorno is a young artist who is gaining notoriety in the local art scene. Unfortunately, the capital Bogota has more opportunities, both artistic and economic, and galleries rarely give a chance to artists who start. In reality, few artists live solely on their art and often have to combine their practice with another profession, such as teaching.
In the case of Juan Carlos Osorno, opportunities occur mostly outside the city. He remains hopeful and believes that the advancement of his career will allow him to live in Medellín itself, which will with a little luck also acquired the artistic importance it deserves. » Medellín has become a center for artistic innovation, urbanism and culture, » says the student, and » art is not a foreign concept in this new awakening . »
Medellín, which includes the Medellín Design Week festival , an international meeting of art and design, has become with time the design capital in Colombia. The true master José Antonio Suárez Londoño has contributed to this artistic movement by creating a drawing school more than 30 years ago. » Today, artists are proud of their ideas and we are not caught in the models we have to follow, » adds Juan.
Thus, for German Gonzales, Medellín begins to be taken more and more into account, a good opportunity for all artists to create and exhibit their works; » I feel that there is an energy that vibrates in Medellín and inspires young people to create together. It inspires me and pushes me to give the best of myself. «
His favorites: Samuel Castaño, Elizabeth Builes, Ximena Escobar, Alejandro Giraldo, David Avend, Santiago Garcia and Ricardo Macia.
His favorites: Edwin Monsalve, Cesar Del Valle, Andres Layos. Youpin Aguilar, Johan Barrios, Hernan Marin and Laura Montoya.
See also: Sara Serena
Sara Serna is further proof that Medellín is filled with hidden talents. She specializes in illustration and collage techniques, used in artistic and political diversion.
Interviews: Nelson Roberge | Text: Atlantide Garcia, with the collaboration of Maryse Boyce
To learn more about Medellín, its gastronomy and its architecture, see our article
Spotlight on Medellín, or renewal through design and architecture